Qualified, experienced and highly motivated personnel

Reefer body specialists handling over 110.000 repairs per year (Rotterdam and Antwerp)

Available storage space of 165.000 square metres in Rotterdam and 200.000 square metres in Antwerp

Workshop in both Rotterdam and Antwerp, temperature controlled for heavy body repairs (reefers)

Cleaning facility for 110 units simultanously in Rotterdam and 80 units in Antwerp

210 Pre-Trip Inspection (PTI) plugs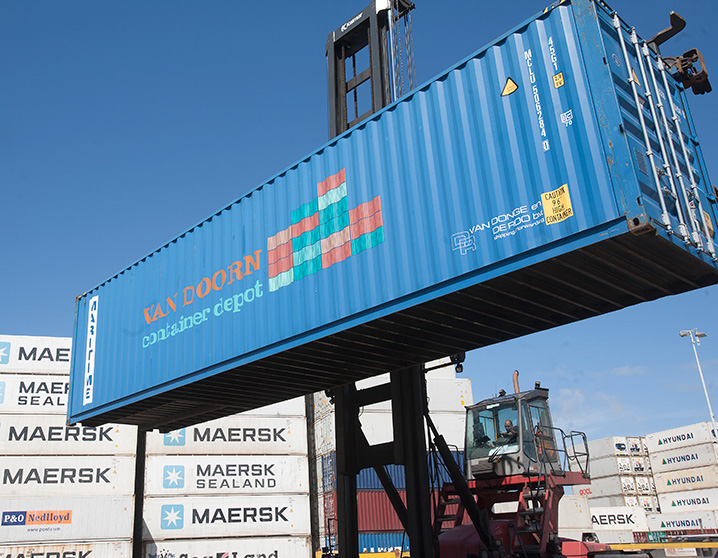 Our depots have a respective 165.000 / 200.000 square metres of storage space available, which enable us to store 20.000 TEU in Rotterdam and 25.000 TEU in Antwerp, this stacked up to a maximum of 8-high. Both of the depots do have possibilities to expand there premises.
We operate with 15 forklift trucks for the handling of empty and full containers, in total 6 for Rotterdam and 9 in Antwerp, furthermore the empty handlers are suitable for carrying 2×40′ units simultaneously, giving maximum time-efficiency.
All our handling material is equipped with a Radio Frequency System, enabling our personnel to accept, release and/or store units on a real-time basis.
The Radio Frequency System, combined with our state-of-the-art software applications, allows us a permanent survey of the depot stock and container locations. By utilizing these systems we are able to reduce and even avoid waiting times for hauliers whilst also resulting in better first in first out performance for our customers.
This information is available 24/7 to all our customers by means of secure e-Services over the Internet.
Our Pre-Trip Inspection (PTI) area accommodates over 110 reefer-connection-points in Rotterdam and 100 in Antwerp, giving direct access for specialists to arrange Maintenance & Repair (M&R) of reefer units. We offer the possibilities to change several times per day at this stack, thus giving maximum flexibility against minimal cost.
Currently we use selected partners for this purpose, among others Harbour Reefer Services (HRS) and Seamark. These  companies offer inspection of all technical functions, maintenance and repair of possible visible damage to the reefer unit or generator set. Besides this all repairs are done by using "Original Equipment Manufacturer (OEM)" spare parts, which we buy directly from the manufacturers and are in stock at our locations.
It is our policy to let our clients select their own preferred partner for M&R of reefer units in order to be able to adhere to possible global commitments and policies, but if needed we can of course also offer DR Depots as front-end so you have a one-stop-shop to fit your needs.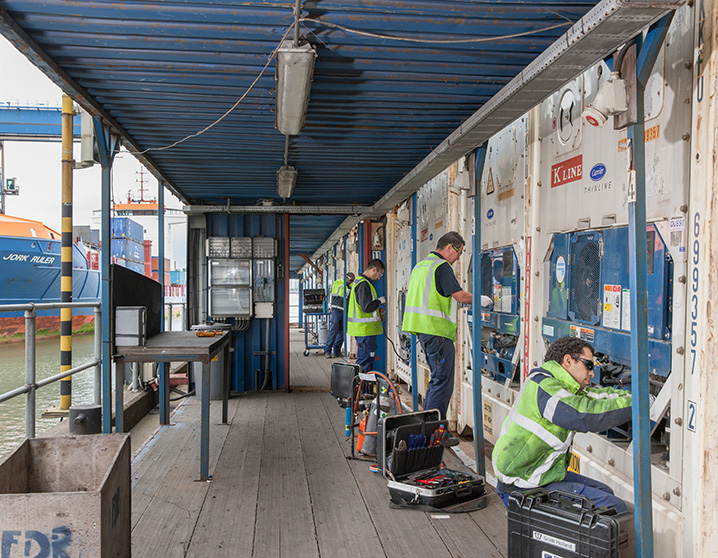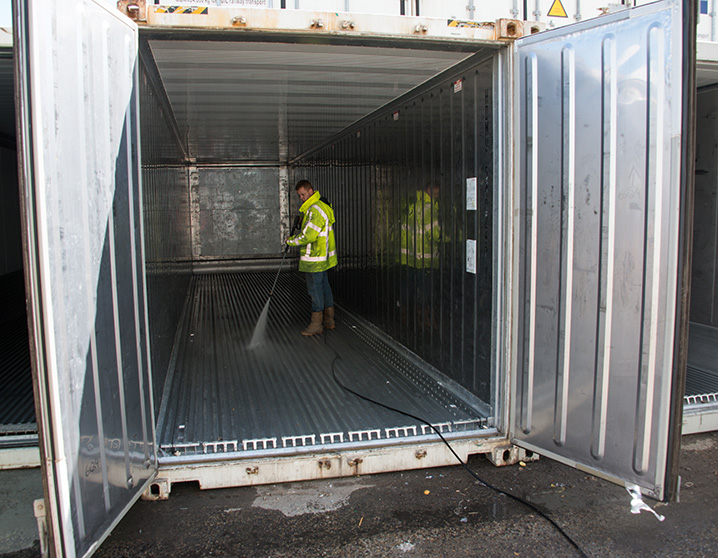 At our extensive cleaning facilities in both Antwerp and Rotterdam, we are able to clean up the units simultaneously in compliance with the standards of the industry.
At our depots we use high pressure cleaners with hot water at the same amount of pressure as with cold water, which gives an even better performance in cleaning your equipment to the requirements you and your clients need. Also applicable, on request, to clean containers with special soap and/or our neutraliser.
DR Depots recognizes the importance of the environment in which we work and live and consequently we conduct our business in a manner preventing environmental pollution, our cleaning facilities fully comply with this policy.
We have possibilities to change several times per day at this stack.
Effective Maintenance & Repair (M&R) is vital to any owner of container equipment, especially for special equipment and temperature controlled units.
As an owner you need your valuable equipment up-and-running with the least possible outage times, whilst it should be in the best possible condition in order to ensure safe carriage of goods for you and your clients. No less important, proper M&R also increases the lifespan of your equipment.
DR Depots is able to offer you a wide range of repair services, performed by our highly skilled staff that is fully aware of the latest standards.
Qualified staff of trained and experienced mechanics performs body repairs on either stainless steel or aluminium units.
These repairs are arranged from a temperature-controlled workshop and guarantees repair times to be reduced to an absolute minimum.
Body repairs are also carried out for fellow depot-operators in the Port of Rotterdam who recognize our capabilities in this field.
Experienced mechanics take care of repairs of standard dry equipment as well as special (open top, flatrack) equipment in compliance with standards set by our clients.
Our fully equipped workshop has an extensive range of spare parts available on stock.
Mobile services are available to provide services throughout the Port of Rotterdam and Antwerp on request.
DR Depots is proud to be the leading provider of mobile repair services at the deep sea areas. Even customers of fellow depot-operators have selected our mobile repair services as their preferred option.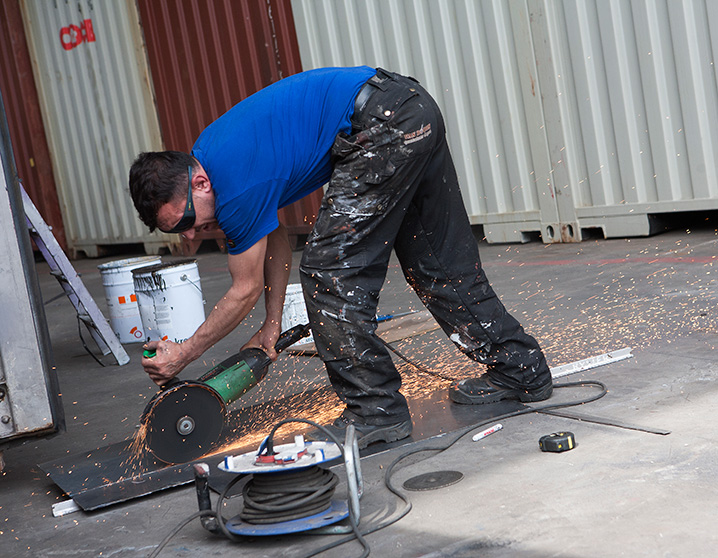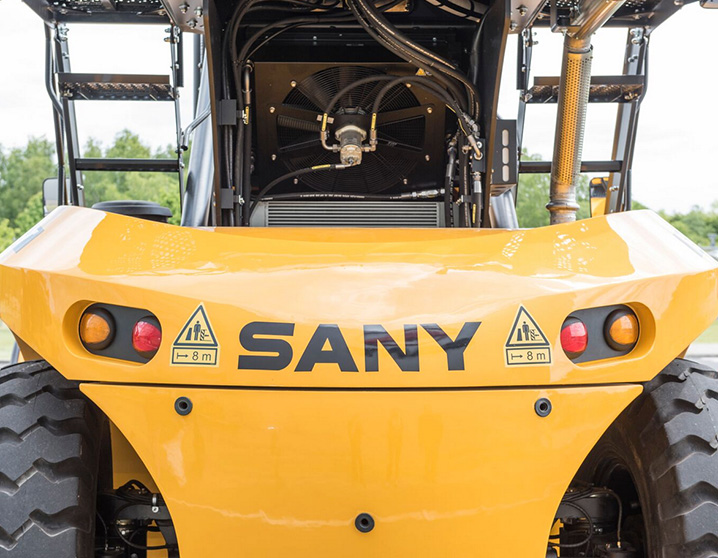 DR Depots uses six SANY container handlers which feature a full-electric control diesel engine that truly optimizes performance and economy. These handlers have a weight capacity of 10.000 kilograms and the spreader is modified to pick up 2 boxes simultaneous in one go, furthermore our hardware is able to stack containers up to a height of 7 boxes.
The machines are serviced and maintained through a dedicated workshop on DR Depots Container Depot, furthermore spare parts are based on European design which guarantees short delivery times to maintain operational and maximum productivity.
By our sister company KGN, which has a separate location on our premises we are able to check if containers arriving to the port of Rotterdam contain fumigants/pesticides and -/or production gasses in concentrations which are harmful to people, when opening these boxes. Via different methods we are able to identify and measure a specified list of twenty gases within 10-15 minutes.
Our gas labs are equipped with a SYFT-Voice 200 (Selective Ion Flow Tube mass spectrometry), this instrument can detect and identify over 400 different types of gases to PPB level (parts per billion). Furthermore on our drive through location we also have the possibility to work with GasMet DX4030 – FTIR analyzer, it is able to identify both organic and inorganic compounds, whilst also storing sample spectra for post-measurement analysis using a chemical library of over 5000 compounds to PPM level (parts per million).
It can happen that a too high concentration of a volatile product is measured in a container. In that case the gas or vapor has to be taken out before the container can be declared fit for safe entering and discharge. We have the possibility to do this on a safe location via either 'natural' or 'forced' ventilation, in last case we even filter the air to ensure a safe working environment.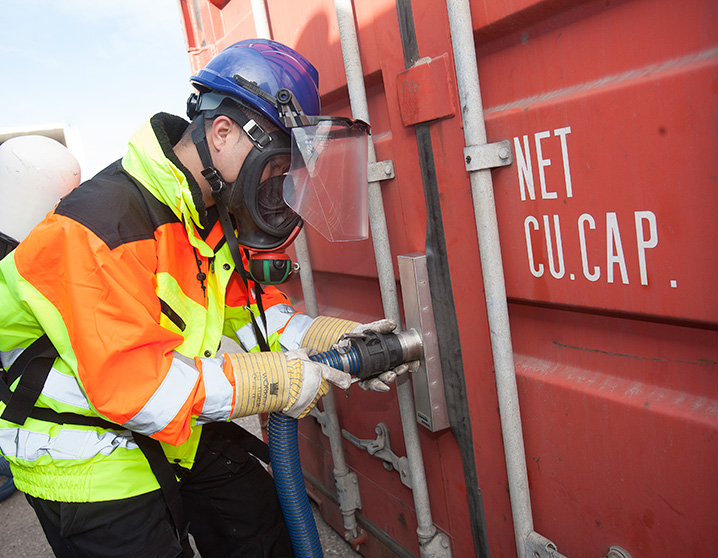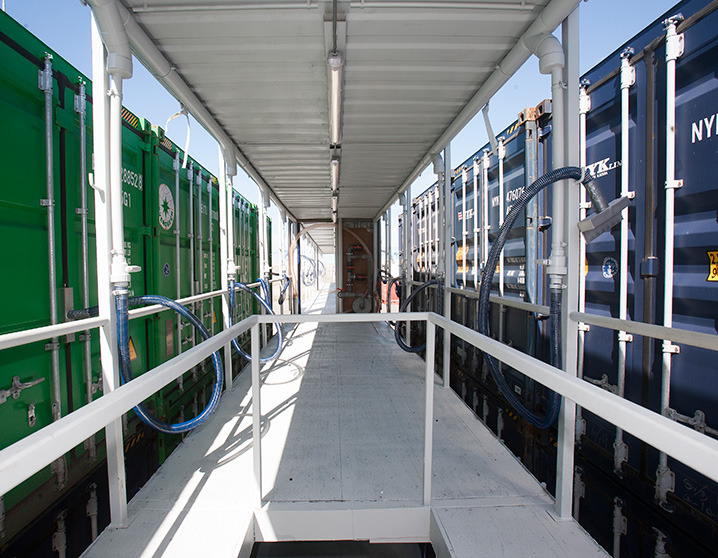 Is a method of pest control that completely fills an area with gaseous pesticides-or fumigants-to suffocate or poison the pests within. It is used to control pests in wood, soil, grain, and produce, and is also used during processing of goods to be imported or exported to prevent transfer of exotic organisms. On the other hand importing countries can demand a fumigation certificate – or a phytosanitary certificate mentioning fumigation – before the imported container is allowed to be opened at destination.
For these problems we can deliver quick and easy solutions:
Fumigation of the container with Phosphine: for both food and feed cargo.
Fumigation with Sulfuryldifluoride: for wood (pallets and packaging)
The container is placed in an approved and secured 'fumigation zone', and the gas is introduced. According to gas and ambient temperature the exposure period ranges from 24 hours to two weeks. After that the container is ventilated until gas free measurement. You than have a safe container, without living creatures inside.
Both introduction of the toxic gas and the gas free measurements are carried out by fully trained and licensed operators, called 'fumigation leaders'.
Internal Terminal Transportation (ITT)
Maasvlakte I and it's existing facilities are internally connected with a exchange route between the different terminals, custom facilities and transshipment locations. This means that via this Closed Transport Route (CTR) we can shift containers between for example DR Depots and ECT Delta Terminal or Rotterdam Container Terminal (RCT), giving DR Depots the possibility to also handle 'barge' and 'rail' modalities.
Different types of vehicles can be used on the current Internal Terminal Transportation (ITT) or Closed Transport Route CTR): terminal tractors with terminal chassis (basically, normal trucks with 2 to 3 TEU capacity), trucks with multiple trailers (MTS with 10 TEU capacity) or new developments such as automated guided vehicles (AGV with 2 TEU capacity) and even vehicles that are able to load and offload containers by themselves.
For the future the Port of Rotterdam Authority is currently investigating how to connect and improve Rotterdam's intermodal inland (rail and barge), feeder and empty depot product. This to also connect Maasvlakte I with II, with the intention to connect all facilities to each other by means of a Common Exchange Route (CER), the preferred vehicle for this is yet to be determined. And for now the new terminals APMT II/Rotterdam World Gateway (RWG) and existing Euromax (EMX) terminal are connected by using (normal) 3 TEU trucks driving on the public road.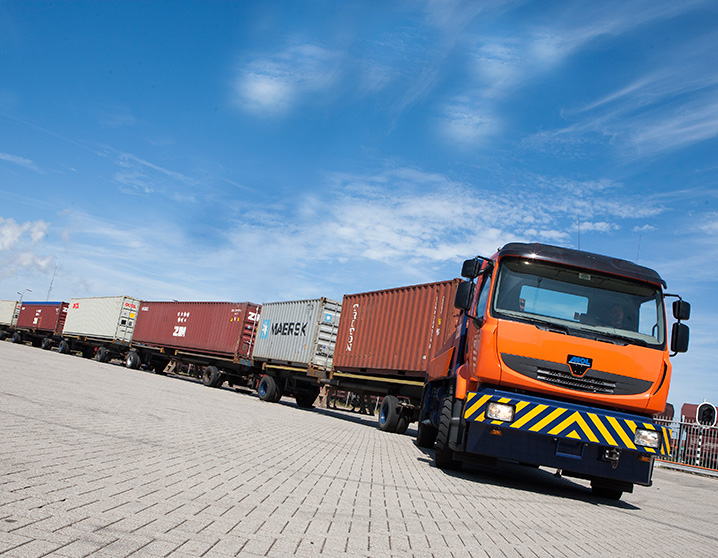 Inspection and Repair Lanes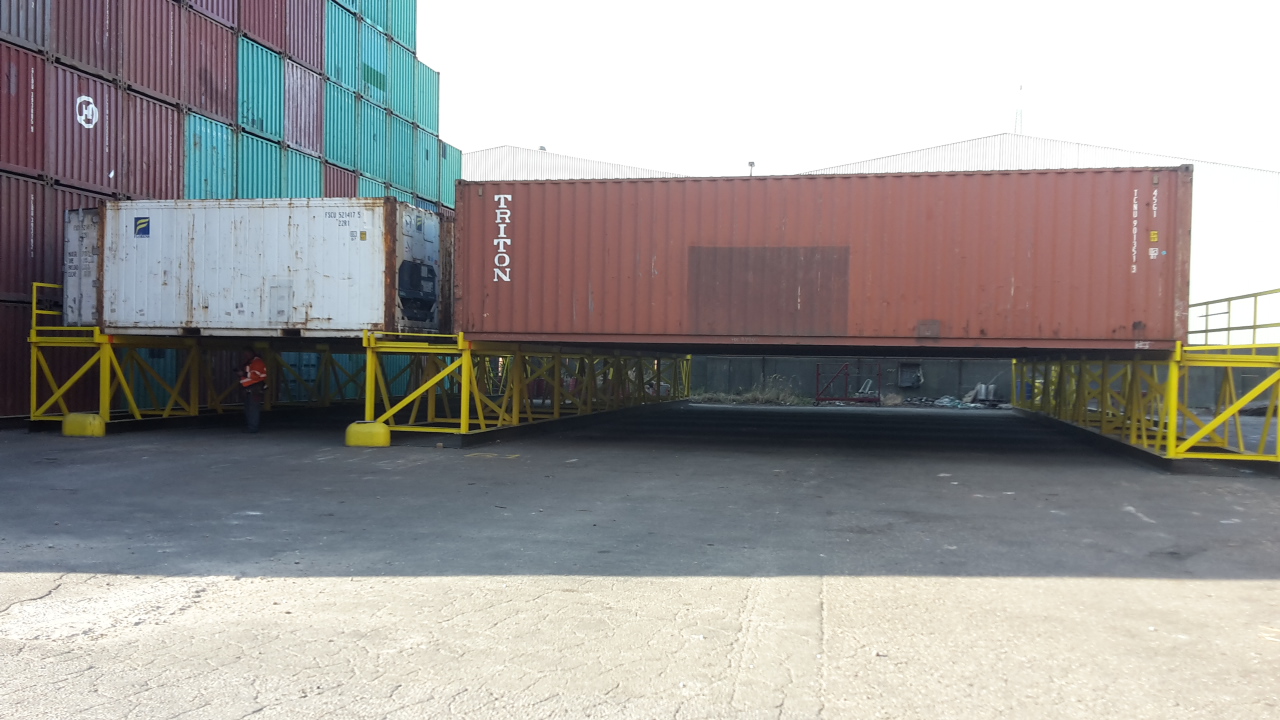 Do you inspect the container floors prior to loading the empty box to the actual customer? When loading containers, pre loading inspection must be required. Bad floors not only put operators at risk, but water damage will also result to the actual loaded product in the container.
We have created special inspection lanes which can hold 10x20ft and 10x40ft simultaneously, this will give the inspector or surveyor sufficient time to do a proper examination of the bottom of the container and floor, this instead of lifting a container up with a empty handler or reach stacker.
You ask what can be done, for more capacity in one go and better inspection of the whole container, please call DR Depots Container Depot!